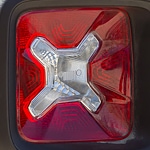 Jeep Renegade is one of the most attractive cars to drive. You will love its interior by the look of your eyes. It comes with a fantastic panoramic sunroof that gives people a ticket to the beautiful blue sky views. The sunroof shall also offer users sun-filled travel.

A stargazer will focus on the latest Jeep renegade. It is also effortless to set up because a push of a button shall open the sunroof wide.

The car has also been designed with a unique LED lighting system. It gives headlamps excellent brightness. Other exterior features are 17 by 6.5 wheels with BSW AS tires that provide passengers an incredible road trip.
?
The black rear and front bumpers give the car a fantastic look trimmed with a black bodyside cladding and manual side mirrors. The car's steel panels are fully galvanized that adds value to the latest model. The interval wiper and defroster are some of the other safety gears designed to fit the purpose.