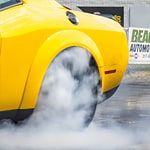 When it comes to the Dodge Challenger, the only thing that may be as impressive as its heart-pounding performance is its iconic style. If you are ready to get noticed in Clinton, this is the car for you. At Cooper Motor Company, we can tell you more about the available options and how you can get a Challenger that matches your style.
The hood design of the Challenger announces that it is coming through. You can get a satin black painted hood or maybe dual stripes. The dual-snorkel hood on the SRT models helps the engine get the airflow it needs to provide raw power.
What color matches your personality? Are you an IndiGo Blue person? How about Smoke Show? On top of those popular options, you can also consider Hellraisin, Go Mango, Octane Red, Pitch Black, and Frostbite. You also have a large selection of wheel styles to finish off your Challenger's look.